Chili
What is nice about this chili, is that, you can make it without the hot dogs and add ground beef instead.
Or you can minus the meat all together and enjoy!
If I do not have any meat on hand, I just simply pop open the cans of beans and add the rice and seasoning!
Easy as Pie!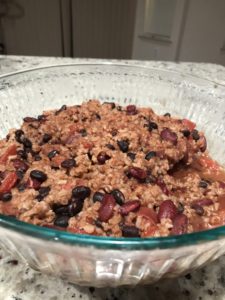 Ingredients:
3 Cans of Diced Tomatos
2 Cans of Kidney Beans
2 Cans of Black Beans
2 Bags of Boil-in-Bag Rice
6-8 Hot Dogs
1 pkg Chili Seasoning
1 pkg Shredded Cheese
Directions:
Cook rice and hot dogs according to directions.
Open all canned items.
Pour into large stock pot.
Cut open boil-in-bag rice and pour into pot.
Cut cooked hot dogs length-wise and then chop into pieces
Add to stock pot.
Add Seasoning.
Stir all ingredients.
Boil and them simmer until hot.
Spoon into bowls.
Sprinkle shredded cheese on top of each serving.
Side Ideas:
Biscuits
Rolls
Bread and Butter
Have a Picky Eater?
You can easily sneak in some chopped up veggies into this pot of chili!
Add chopped carrots, onions, or peppers!